Chantelle Innovation: launching the Period Panty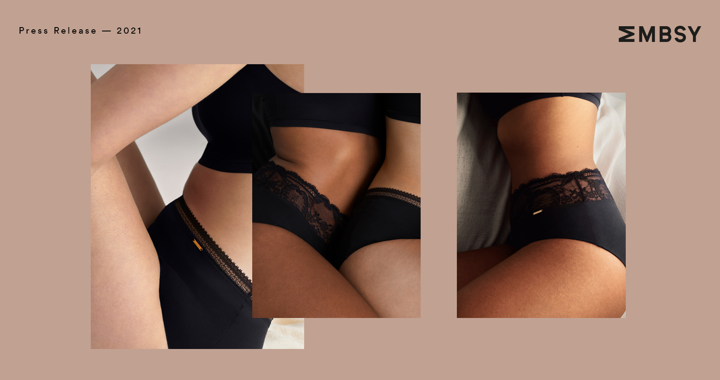 Chantelle aims to be present in every moment of every woman's life. The brand is now responding to a strong consumer demand and is launching its first line of period panties for every day and night of a cycle, and for all menstruating women: first periods, periods, or even postpartum. The Period Panty is beneficial to both the environment and your budget and looks elegant and feminine.
During her lifetime, a woman uses between 10.000 and 17.000 disposable sanitary protection, pads, or tampons. These products represent a regular and expensive investment and sometimes contain harmful substances, pesticides, and all kinds of by-products. These can have an impact on women's health but also on the environment. In addition, there are potential discomforts associated with conventional sanitary protection: urinary tract infections, yeast infections, and fear of toxic shock syndrome.
That's why Chantelle introduces a new alternative, the Period Panty. The Period Panty is a sustainable and financially interesting option for women during their menstruation.
The new Chantelle Leak Proof Technology
An innovative technology designed seamless and slim (only 3 mm) to bring you comfort and care without compromising style. Three successive layers make for ultra-thin, ultra-absorbent, healthy, and resistant panties.
Wicking Layer: Breathable certified GOTS organic cotton fabric that wicks away moisture and blocks smells to stay dry and fresh.
Absorbant layer: A mix of natural fabrics made of bamboo viscose, with hypoallergenic advantages, absorbing fluids and fighting bacteria during 12H for a heavy flow.
Leak-Proof Layer: A 100% impermeable membrane preventing leaks and stains, helping you remain worry-free all day and night.
Two different lines are available, both featuring a hipster and a panty: a minimalistic black one with a graphic border and one with elegant and feminine lace, to make women feel confident, even when menstruating. Thanks to the seamless finishing, both panties are invisible under any clothing.
Like all of the brand's products, the period panty line meets an inclusive sizing ranging from size 34 to size 46 to adapt to all body types.
Practical
The panties with graphic border cost €35 each, the panties with lace cost €39
The period panties will be sold at Inno (Brussels, Antwerp, Leuven, Woluwé, Schoten and Sint-Niklaas) and on the webshop of De Bijenkort from mid-June.
---